For a beautiful, durable driveway, walkway, or patio, choose brick pavers from us in Winter Haven.
Brick pavers can add stunning detail and interest to your outdoor living space from the minute they are installed and allow for unlimited design possibilities for your driveway, patio, pathways and beyond.
Paver Designs and Color Choices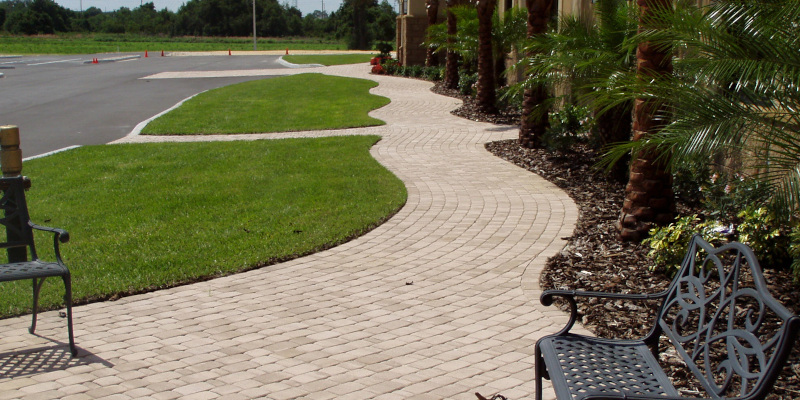 Brick Pavers in Winter Haven – Are you tired of having broken or cracked driveways and walkways on your property? Do you want to use a material that is sturdier and more aesthetically pleasing than concrete? Installing brick pavers from Unlimited Property Solutions is the answer!
Our brick pavers in Winter Haven, Florida have many advantages, including:
Durability- Our brick pavers are perfect for high-traffic areas, including driveways, walkways, patios, and more because they can handle a great deal of weight and stand up to heavy wear-and-tear.
Minimal Maintenance– All you need to clean your brick pavers is some water, detergent, and a scrub brush. And if one of the brick pavers becomes cracked, broken, or stained, it can easily be removed and replaced without having to tear everything out and start over again.
Design Options– Our brick pavers always look much better than a boring slab of concrete! They come in many different shapes, sizes, and colors, enabling you to choose a uniform look, an intricate mix-and-match design, or something in between.
Increased Property Value– Brick pavers are a very cost-effective paving solution, and you will be able to gain back much of the cost of installing and maintaining them when you decide to sell your home.
Let us help improve the value of your home!
After we install your new brick pavers, we can also seal them to make them even more resilient. After the brick pavers are sealed, they will be more resistant to shifting, cracking, and fading, as well as insect activity and mold/mildew growth. Sealing will also prevent weeds from growing in between the brick pavers.
The best part about adding brick pavers to your property is that you can reap these benefits within a few days. With our signature process, it only takes a limited amount of time for us to install pavers and enhance the aesthetics of your property.
Our Process
When you decide to add brick pavers to your property, we want you to be 100% satisfied with the results. This is why we follow a process we've refined time and time again over the years to ensure a completely satisfactory result when we lay new pavers.
First, we'll start by discussing where you want the brick pavers and what kind of configuration you have in mind. We can offer input regarding style, design, and layout, so you get the best results possible. Second, we'll prepare the area to ensure the brick pavers lay flat and provide lasting results by clearing the installation area of debris, small plants, and other features.
Finally, we'll get to work laying the brick pavers in the design you approved for your yard. We work methodically and efficiently while paying careful attention to detail, so you end up with pavers that enhance your yard instead of detracting from its beauty. At any point during this process, please don't hesitate to reach out to us with questions – we're always more than happy to help!
Contact Us Today
When you're ready to get started on a brick paver project at your Winter Haven home or business, contact us at Unlimited Property Solutions for an estimate. We look forward to hearing from you!
Similar Services We Offer: